CULTURAL ATTRACTION
Ethiopia, an old country beyond all imaginations, has culture and traditions dating back over 3000 years. With over 80 different Ethnic groups with their own language, culture and traditions. The strong religious setting, celebrations and festivals play an important part in every ones daily life. Church ceremonies are a major feature of Ethiopian life. The events are impressive and unique. The Ethiopian Orthodox Church has its own head, follows its own customs, and is extremely proud of its fourth century origins. Ethiopia's Islamic tradition is also strong and offers colorful contrast, particularly in the eastern and south-eastern parts of the country. In fact, there were Ethiopian Muslims during the lifetime of Prophet Mohammed. This rich religious history is brought to life in the romantic walled city of Harar, considered by many Muslims to be the fourth "Holy City" following Mecca, Medina, and Jerusalem.
SOTHERN ETHIOPIA(OMO TRBIES)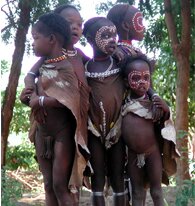 In a huge contrast to the North, the Ethnic South is a disappearing world worth seeing before it vanishes and is a disappearing word world worth seeing before it vanishes and is absorbed by "Modern civilization". The beautiful culture and way of life of the KONSOES, HAMERS, BENAS, GELEBS, KAROS, MURSIS and all the other tribes, will disappear in a short while due to the urban way of life and encroachment of Christianity and other religions. This is the time so see this fast disappearing word of 'STONE AGE' 21th century, before it is too late.
Lifestyles are as varied as the tribes themselves. Lacking any material, culture and artifacts common to other cultures, these tribes find unique ways in which to express their artistic impulses. Both the Surma and the Karo, for example, are experts at body painting, using clays and locally available vegetable pigments to trace fantastic patterns on each other's faces, chests, arms, and leSgs. These designs are created purely for fun and aesthetic effect, each artist vying to outdo his fellows.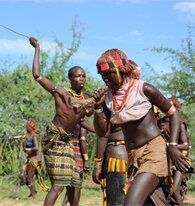 The Oromo people, offer their products for sale in open markets. They produce the more familiar grains and vegetables of established agriculture. Coffee, one of the world's favorite beverages, is believed to have been 'born' in this region.
The women of Tigray wear dozens of plaits (shuruba) tightly braided to the head and fuzzing out at the shoulders.

Young children often have their heads shaved, except for a tuft or a small tail of plaits, which are left so that if God calls them 'He will have a handle by which to lift them up to Heaven'.